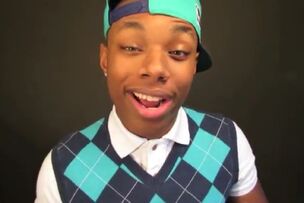 Edward L. Melvin III
(born October 28, 1992) better known as
Trè Melvin
is a American actor, published playwright, singer, philanthropist, and YouTube personality. He is best known for his YouTube show,
This is A Commentary
.
Life
Melvin was born in Dayton, Ohio. He graduated from a performing arts high school, where he studied theatre between the grades 7-12. Melvin has also studied business marketing at the University of Cincinnati. Melvin also has a sister named Kayla Melvin, she has also appeared in his short film "Skullface: The Movie". On January 1, 2014, Melvin revealed a longtime secret he has been hiding from his fans that he is actually bisexual, which had received positive views from fans and non-fans alike.
This Is A Commentary
Melvin is best known for his internet video series "This is a Commentary" which premiered on October 9, 2011 on Melvin's Facebook page. On June 13, 2013 after less than two years in production, TIAC reached over 1 million subscribers and 100 million views. The show is best known for videos such as "Ghetto Christmas Carols" and more. He is also known for his character, Watermelondrea Jones.
Career
Melvin is working on his clothing line, television sitcom, and he said to be possibly working with Marlon Wayans and Chris Brown.
Singles
Busted Up
Lookin' Ass Nigga: The Remix
Ad blocker interference detected!
Wikia is a free-to-use site that makes money from advertising. We have a modified experience for viewers using ad blockers

Wikia is not accessible if you've made further modifications. Remove the custom ad blocker rule(s) and the page will load as expected.